EdgeMate Pool Chair is proud to Partner with the ILHA
As a REVENUE-GENERATING AMENITY, the EdgeMate In-Pool Chair helps boost your hotel's bottom line now and over the long-term
RELAX . . . You're in an EdgeMate
A Seated Guest is a Happy Guest . . .
Increase Poolside Seating
Ready to use right out of the box, EdgeMate instantly expands your poolside seating capacity.
Increase Food & Beverage Sales
EdgeMate encourages your guests to spend more time at the pool, while the custom cup holder helps drive F&B sales.
Boost revenue with this unique addition to your reserved poolside amenity menu.
Roll up to a dozen chairs anywhere on your pool deck with the custom EdgeMate Storage Rack.
EdgeMate works in 95% of in-ground pools, requires no alterations to the pool or pool deck, and leaves zero permanent footprint.
Folds flat for easy transport and storage.
EdgeMate's anodized aluminum tubing makes it strong, sturdy and capable of holding swimmers of any size, yet is light enough to lift without hassle.
Upright Height: 32″
Width: 25″
Seat Width: 20.5″
Seat Depth: 16″
Lay-flat Thickness: 4.5″
Weight: 4.4 lbs.
Most standard-size beverage containers including:
12 & 16 oz plastic cups
12 & 16 oz aluminum bottles
20 oz plastic screw-top bottles
EdgeMate Custom Cup Holder
The custom cup holder easily accommodates most standard-sized beverage containers. Smart design means drinks will stay above the water line and fits with EdgeMate's ability to fold flat for easy transport and storage.
Keep your hotel's EdgeMate Pool Chairs accessible, organized and safe with the EdgeMate Storage Rack.
Each rack has a slim profile, allowing it to fit through most standard-sized doorways. It also includes four rotating casters (including two locking), for ultimate mobility.
The EdgeMate Storage Rack is highly versatile and designed to suit your hotel or resort pool environment. Store up to 12 EdgeMate Pool Chairs (including Cup Holders) with just one rack.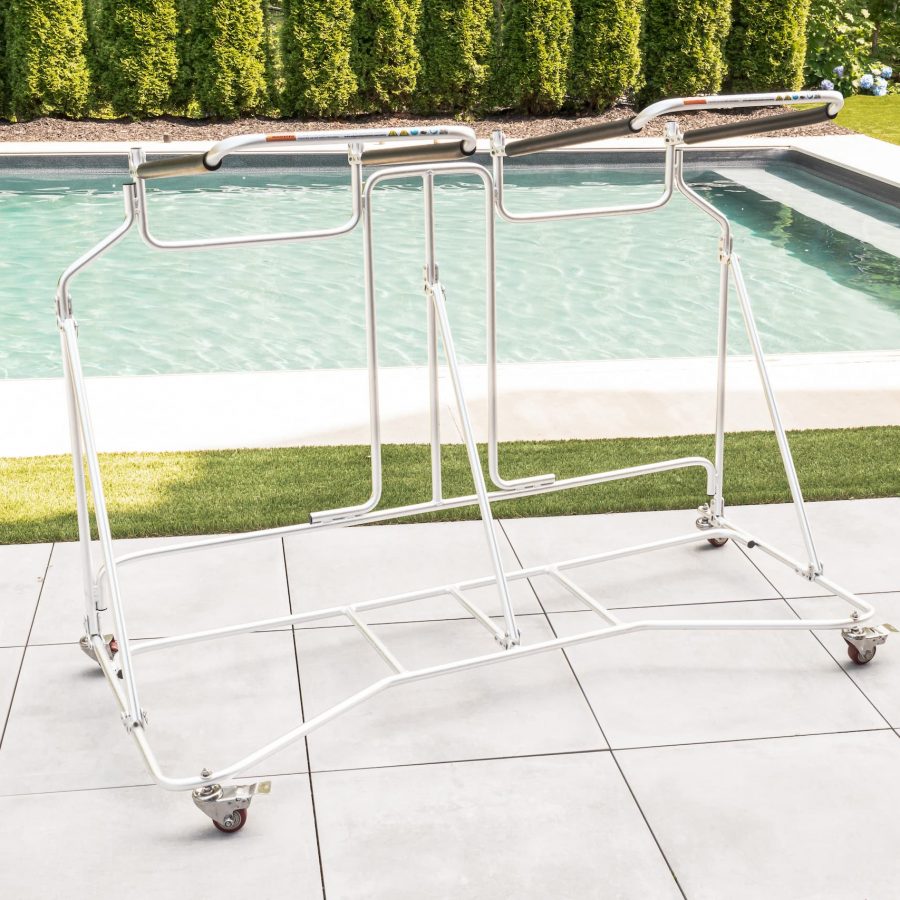 Weight: 24.2 lbs.
(77 lbs. fully loaded)
Height: 49"
Length: 65"
Width: 29"
Provide This Unique Experience for Your Guests . . . Contact Us Today!
Check us out on Instagram @edgematepoolchair