In-Pool chairs vs. poolside lounge chairs is a common topic pool owners need to consider when accommodating their guests. It's not surprising when you consider just how many objectives people have when they visit the pool. Go for a dip. Take in some sun. Find a safe place to keep your belongings. And the list goes on.
Ultimately, you have to answer two main questions: What do your guests want? And what resources do you have to work with? Those can be complicated questions, so we've broken them down into a few categories to help you weigh the pros and cons as you make your decisions.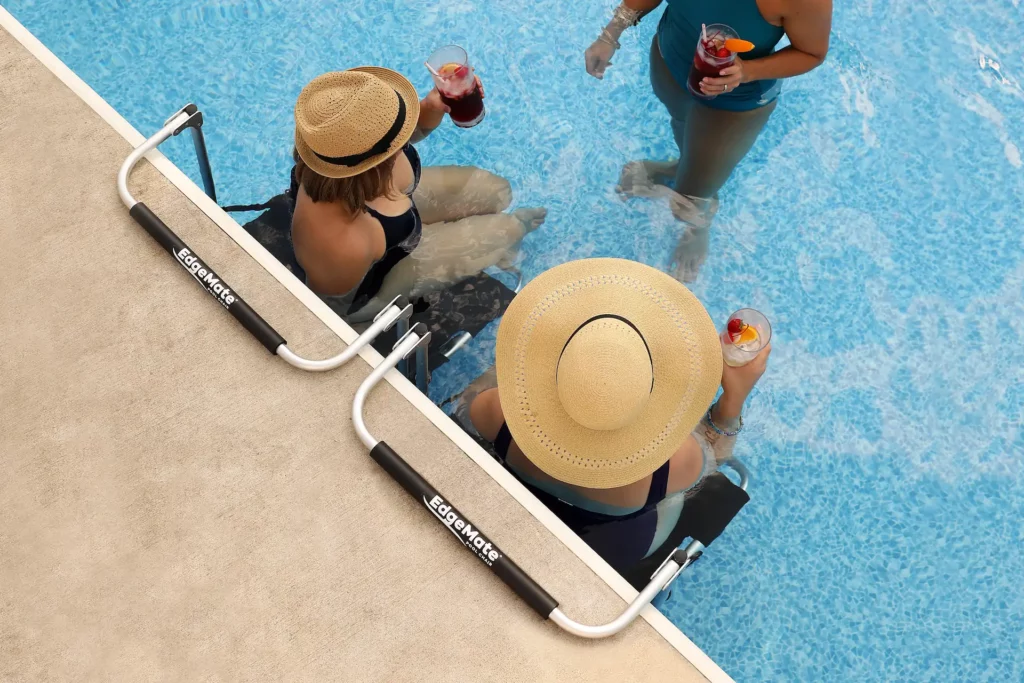 Deck Space
Before anyone shows up at your pool, you want to take a good look at the deck around it. What is your seating capacity? In other words, how many lounge chairs can you reasonably fit on your pool deck?
If you know your pool is going to be a popular destination at certain hours, but you only have room for a handful of lounge chairs, have a healthy supply of in-pool chairs to offer guests as a courtesy or for rental. EdgeMate In-Pool Chairs rest on the pool's ledge partially submerged in the water. They give their users the option to sit and relax without taking up as much deck space as a lounge chair does. 
Portability
With each chair variety, you need to consider how portable they are. Whether it's your guests or your staff who are charged with moving your pool furniture, you want to eliminate as much fuss as possible. Lounge chairs can vary widely in weight depending on what they're made of. Therefore, a good way to assess their portability is to ask "Is moving this chair a one-person job?" If the answer is "No," look for something else.
EdgeMate In-Pool chairs are a different story. At only 4.4 pounds each, they weigh less than the average purse (6 pounds). Also, their foldable design makes it so you can easily carry the whole chair with one hand without having to clear a path which is often the case with lounge chairs.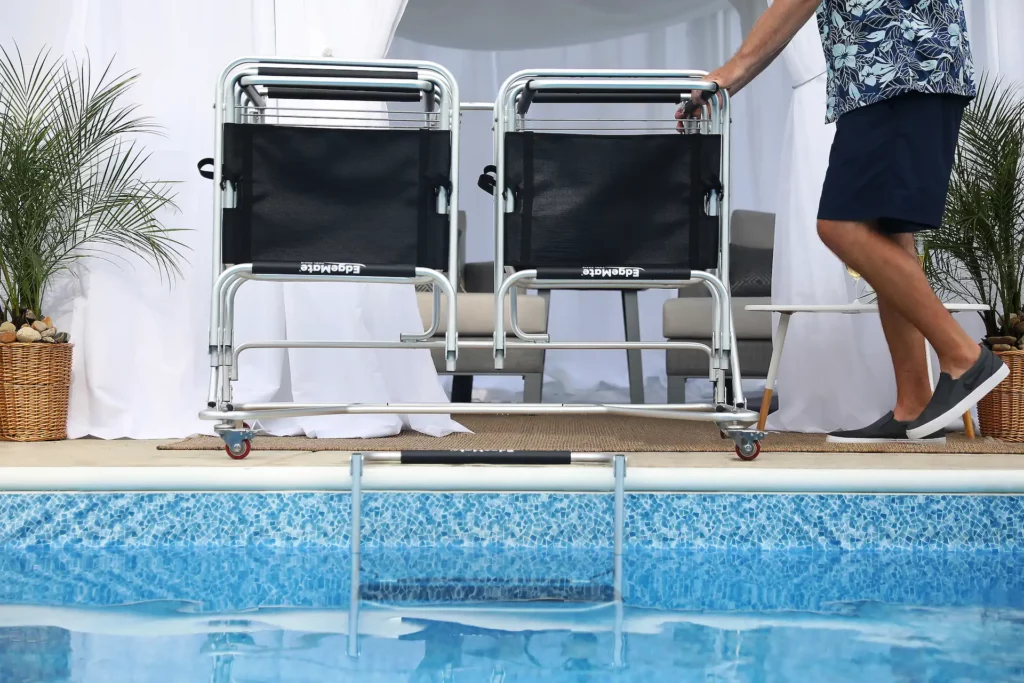 Storage
Along with portability comes the question of storage. The last thing you want is to be stuck with pool chairs that need their own zip code. Lounge chairs are often made to stack on top of each other when not in use. Even so, you will still need to find generous storage space for your lounge chairs even when they're collapsed.
EdgeMate In-Pool Chairs are awesome when it comes to storage. These chairs are significantly smaller than a lounge chair and fold at two different points. When in their compact, folded position and placed on the EdgeMate Storage rack, you can easily store several EdgeMate In-Pool Chairs in the same footprint as you would store just one lounge chair. 
Guest Activity
Some guests will only want to swim, and that's fine. The pool is there for their enjoyment. Other guests will only want to bask in the sunshine. That is also fine as long as you have a reasonable number of poolside lounge chairs for them to use.
But many guests will want the best of both worlds. So how do you deliver a refreshing dip while upholding the benefits of dry land? Answer: offer guests an in-pool chair. EdgeMate Pool In-Pool Chairs make it so you don't have to choose between the water and the cabana. Sitting in these in-pool chairs, you can still enjoy a chat, a drink, a quick look at your phone, or just a moment's peace.
In-Pool Chairs vs. Poolside Lounge Chairs: The Final Verdict
As the previous examples demonstrate, there are multiple factors to consider with the in-pool chairs vs. poolside lounge chairs decision. In the end, it comes down to one word: options. By incorporating both options into your pool seating scenario, you create a more accommodating situation for both your guests and your staff.
Ready to add in-pool chairs as an option to your pool environment? Order your EdgeMate In-Pool Chairs Online today. Also, be sure to visit our FAQ page for more information on their compact, lightweight design.