"Are in-pool chairs easy for seniors to use?" The short answer to this question is yes. In fact, EdgeMate Pool Chairs are easy for everyone to use. But we know that many people are keen to eliminate barriers their senior loved ones may be facing when it comes to using the pool, so we put together a list of 3 key reasons why EdgeMate's In-Pool Chairs are particularly easy for seniors to use.
Compact, Lightweight Design
Sturdy, Reliable Hardware
Comfortable Seating Option for The Shallow End
Compact, Lightweight Design
Design is everything when it comes to accommodating everyone's pool experience. Unlike typical pool equipment that usually involves an air pump or some sophisticated means of installation, EdgeMate Pool Chairs are ergonomically designed to fold easily when not in use. This reduces the need for significant storage space, thus making it a great solution for anyone wanting to declutter.
Better still, EdgeMate Pool Chairs are lightweight. How light are they? Consider this: the average purse weighs a little more than six pounds. These pool chairs, on the other hand, weigh only 4.4 pounds. In other words, most people, including seniors, spend their day lifting and carrying household objects that are heavier than an EdgeMate Pool Chair! So banish any worries you may have about whether or not the seniors you love will strain themselves lifting and carrying their pool chairs.
Sturdy, Reliable Hardware
Make no mistake. "Lightweight," in this case, does not mean "less strong." EdgeMate Pool Chairs are fabricated with aluminum tubing that achieves maximum strength with as little weight as possible. In fact, each chair undergoes rigorous testing to ensure its heavy use over several years.
Out of the water, these chairs can hold up to 300 pounds. That means that human buoyancy factors make it so the chair has virtually no weight limit when placed in the water. So don't expect any skepticism about if the chair will hold a full-grown adult (senior or otherwise) for as long as they want.
The top bar of an unfolded chair rests securely on the pool's edge with the help of a high-grip, padded material. This guarantees that they do not slip (even in the wet environment of the pool) or leave behind any imprints on the deck.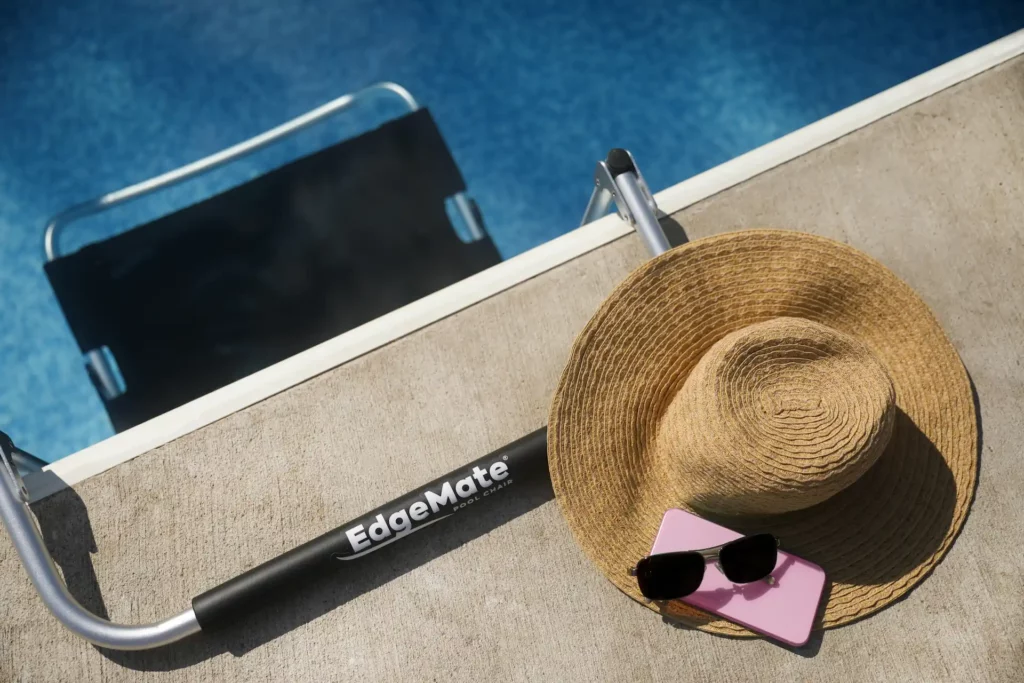 Comfortable Seating Option for The Shallow End
The beauty of pool chairs is that they dispel the myth that you have to swim in order to fully enjoy a pool. The key is to seek out a high-quality chair and know where it is best positioned for optimal comfort. The result is a comfortable seating option for anyone who wants a less strenuous activity out of going to the pool.
EdgeMate Pool chairs, for example, are designed for partial submersion in the shallow end. This way, the user may easily sit themselves in the chair without putting excessive pressure on it or themselves. When pool time is over, getting out of the chair is just as easy as it is getting into it. It requires little effort to stand in the pool, fold the chair, and lift all 4.4 pounds of it out of the water. From there, it's a short distance to the pool's exit. Thus, you have effectively created the most comfortable, hassle-free pool experience for your senior loved ones.
Ready to see how easily seniors can use EdgeMate Pool Chairs?
Visit our online store today to order your very own EdgeMate Pool Chairs for anyone and everyone in your family. Then, check out our FAQ page for more information on their design and reliability testing.